Musical Mondays is a weekly linky party where we share a song we're into for the week, and talk about why we like it-or why it effects us.
This week's song:
by Eric Himan
I don't want you to love me if that's not your fate
Would you kindly step aside if that's the case
I don't want another drink, I've had enough
The way to my heart does not involve gettin' me drunk
[Chorus]
Well I'm after a genuine one
So don't kiss my ass to get my pants undone
I keep my heart clean
Don't you dirty my dishes just to leave them in my sink
I keep my heart clean
Don't use a word like love when you don't know what it means
Pick up lines, I've heard plenty
You don't give a dog a bone and not expect him to spend the night at your feet
This shirt of mine is staying on
If strippin's what your wishin' you've got me all wrong
[Chorus]
I don't wanna be rude
I don't wanna sound curt
There's no chance in hell I'm ever gonna sell myself for less than what I'm worth
Oh for less than I am worth, less than what I am worth, for less than what I'm worth.
[Chorus]
As many of you may have read hear before,
Eric Himan
is one of my absolute favorite artists in the world. I love his music, his cooking show
Trial and Eric
, and his genuine personality. He's my friend on Facebook and he always goes out of his way to get to know his fans and make them friends. Well for years Josh and I have been begging for him to come to Salt Lake City so we could see him play, but it has always fallen through due to venues falling through or running us through the ringer. However, this year for his West Coast tour we were excited to find out that
Gracie's
in downtown SLC accepted him last minute and we'd get to see him!
It was so fantastic to see him play live-and of course when he asked for requests I immediately threw out Heart Clean from
Everywhere All At Once
-and recorded it-which is the video you see above. Josh recommended
Protest Song
-which he was a little hesitant to play but due to popular demand he did. I'm extremely proud of him for singing Protest Song in downtown SLC-it's too perfect!
Not only did he stop to take pictures with us during break and talk to us, but we were able to hang around after and talk. He told us some of the stories behind his music and opened up a little, talked about where he was going and wanted to go, and when talking to other fans he even told them that he thought my blog (right here folks!) was awesome and that I was a great blogger-can we say ultimate fangirl moment? My idol talking about me and this little blog? Love. He is so sweet!
He even gave me a free copy of his DVD
Under the Ink
. Above is the photo Josh took with Eric's phone which was better than the one with my camera, and he even posted it to Instagram with the caption
"
Rocking Salt Lake City with bloggess, Angie Golish of My So-Called Chaos, with DVD in hand!"
which made my day. Loving the shout-out from Eric, he's super thoughtful and so down-to-earth!
Want to find more of Eric? Here's how:
You can also get his music on iTunes, Amazon, or from
his Shop
!
He also still has 4 dates left on his tour:
APR 12TH: MANHATTAN, KS, Aggie Central Station, Time TBA
APR 13TH: ST. LOUIS, MO, Just John's, 7pm
APR 19TH: KNOXVILLE, TN Edge, 10pm
APR 26TH: BARTLESVILLE, OK Two Sisters Pub, 9:30pm
What are you listening to this week?
**Please! If you are linking up put the button or link in your post!**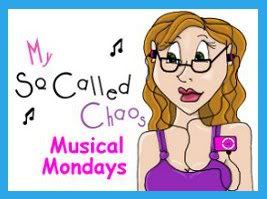 ***P.S. This post wasn't sponsored or endorsed by Eric, I just love him and had so much fun!***