Musical Mondays is a weekly linky party where we share a song we're into for the week, and talk about why we like it-or why it effects us.
This week's song:
Empathy
by Alanis Morissette
There are so many parts that I have hidden and denied and lost
There are so many ways that I have cut off my nose to spite my face
There are so many colors that I still try to hide while I paint
And there are so many tunes that I secretly sing as I wait
You come along and invite these parts out of hiding oh
This invitation is one that I've stopped fighting ah
[Chorus]
Thank you for seeing me
I feel so less lonely
Thank you for getting me
I'm healed by your empathy
Ah, this intimacy
There were so many times I thought I'd die not being truly known
There've been so many moments forever lonely in my vocation
You come along to celebrate each feeling oh
And there you are all honor and inquiring ah
[Chorus]
There was a day where the trust that was being asked of me
Required too much you see to accept your generosity
To know myself enough to let you help me
[Chorus]
***
I don't think I ever thought about how hard it would be to trust again after all of those blows in the past. For the first time in my life I'm actually dating a nice guy who wants much of the same things as I do and I'm more afraid than I've ever been. I'm more afraid of him than I have been the jerks that have hurt me in the past. My friend Meggy thinks that it's because somewhere deep down I knew none of them would last-that none of them were real intimacy. Real intimacy is scary.
Thinking back I haven't had a serious monogamous relationship 6+ years. How strange is that? I've had people I've dated, had casual flings with, been in love with... But none of them were ever as committed to me as I was to them. None of them reciprocated in quite the way that I needed them to-and they didn't care to either.
You'd think now that I'm faced with someone who actually may return some of those things-you know who may actually provide a healthy and stable relationship-that I'd be welcoming it with open arms. Yet there is a large part of me that wants to run and hide. To tell him to just go away and stop beating at these walls I've built to protect myself from making all of the same mistakes all over again.
Still... I'm not letting fear control me anymore. I'm working on healing myself. I'm working on opening myself up to love again and hoping with all that I have that I don't get hurt again. It helps that I'm not the only one. It helps to have understanding, empathy, and mutual honesty. We'll see what happens.
***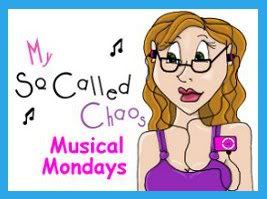 What are you listening to this week?
Don't forget to link up your musical selection and include the button!