At the end of August I published a post titled
August Favorites Around the Blogosphere
where I showcased some of my favorite blogs and posts for the month of August. I loved being able to showcase some other bloggers that I've been reading and received great feedback from other bloggers who found new loves through reading that post as well. So, since I love all of you bloggy readers, and blogs I read-I'm going to do it again.
Some of favorite blogs this month:
You may remember me mentioning Kate's post
The Truth About Womanhood
and how much I loved it, but I'm quickly realizing I love most of her posts. She has so much depth, and so much heart-it's a really good blog to read now and again. I look forward to reading it more going forward.
Kenzie is such a sweet girl, and I first met her when she started commenting on my blog and actively becoming a good bloggy buddy. Recently I even did her blog design, which ended up being one of my favorites that I've done-so you should definitely check it out. She's sweet and does her best to comment back and reply.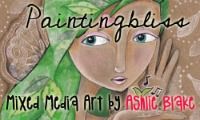 Ashlie Blake is pretty much my new favorite person ever. I found her through a giveaway on someone else's blog (which I didn't win) but I quickly followed her everywhere-including Instagram where we now talk all of the time! Not only does she actively engage me, but she gives me helpful tips with my own art and crochet. She is the sweetest, and I totally want
a life like hers
.
Some favorite posts this month:
Maria over at Little Tree Vintage
wrote about lessons she has learned
. Not only is she pretty and extremely fashionable, but
this post
also shows how smart and beautiful on the inside she is.
Sarah from
Fortune Favors the Brave
wrote a post titled
How I Blog
. It's awesome that she is sticking to herself like that, and there are some great tips!
Shell from
Kitty and Buck
wrote out
4 simple goals
she wants to complete before the end of the year. She inspired me to write out my own, which I'm going to do soon.
Erin from
Living in Yellow posted about what she believes in
, and it was inspiring. I heard about it from Torie at
Lattes and Love
and
Rockin' Mama
. Inspiring. I have one written too-not sure when I'll post it.
Some Favorite DIYs this month:
This Enchanted Pixie
posted a recipe for
making your own Lavender Oil
.
Paisley Blvd
posted a
recipe for Hot Apple Pie Body Scrub
. Yummmm...