I'm trying to make a much better effort to get back to reading all of these wonderful blogs I love, and leaving comments. Sometimes it becomes difficult to keep up as you find new people to follow, and try to check in with all of your followers as well. For a while there, I was so overwhelmed with following people, posting on my two blogs, volunteering, and working that I just kind of dropped off for a while...
Well I'm back to reading, and checking in with the people and blogs I love. Also, thanks to
passionfruit
and looking for people to sponsor, I've even found some other fantastic blogs to follow and keep up with. There really are some amazing people out there.
I wanted to share some love here, and share some of my favorite posts with you. Lena from
Mom2MemphisandRuby
once included me in one of these, so I have to send her a BIG thank you for the idea. I love that she shows the love, and I love showing love too!
Some new favorite blogs that I'm reading:
Recently I found Jes at
The Militant Baker
due to the
Womanifesto
movement she started. Then I got poking around and found out how awesome she really was. She's a curvy girl who's
proud of her size
and wrote a great piece called
Why I'm Fat
that everyone should read. I could really learn a thing or two from her. I need to learn to love myself despite my weight, and am going to keep up with her blog now.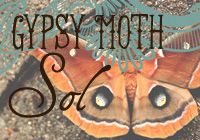 I found
Gypsy Moth Sol
simply by following a chain of sponsor/ads on other blogs. I immediately fell in love with her bohemian blog and emailed her to set up a swap of buttons. She emailed me back to let me know that she was also a hula-hooper and that she though my blog was a fit for swapping. She is so lovely! She writes about things like
charging stones & crystals
and she's so positive and filled with love. I love it.
I'm loving
Kitty and Buck
, and I even chose to sponsor them due to this fact. She is adorable, and so so friendly. She has
awesome funky fashion sense
, inspired me with
her Womanifesto
, and
she's a thrifting queen
. I love a good thrift find!
I've decided that I want Torie from
Lattes & Love
to be one of my new blogging buddies. I sponsored her blog, and she has tweeted me often since, and she is fantasticly nerdy, sweet, and super friendly-everything I want in a bloggy bff. She even helped me decide to get my Doctor Who goodies the other day. She even made some
awesome comic book heels
that I need to try making. Just
read her re-introduction
and I dare you not to think she's fantastic!
Some favorite posts this month:
I already talked about the the
Womanifesto from Kitty and Buck
, and the Why I'm Fat post from The Militant Baker... So I'll move onto a few others I've loved reading this month.
Kate Henley
wrote about womanhood and how it's not exactly what we expected when we were younger in her post
The Truth About Womanhood
. To be honest, she's another new blog I'm enjoying-she's very real.