This week's song:
by Lily Allen
When she was 22 her future looked bright
But she's nearly 30 now and she's out every night
I see that look in her face, she's got that look in her eye
She's thinking "How did I get here?" and wondering why
[[Chorus]]
It's sad that it's true how society says her life is already over
There's nothing to do and there's nothing to say
Until the man of her dreams come along
Picks her up and puts her over his shoulder
It seems so unlikely in this day and age
She's got an alright job but it's not a career
Whenever she thinks about it, it brings her to tears
'Cause all she wants is a boyfriend-she gets one night stands
She's thinking "How did I get here? I'm doing all that I can."
[[Chorus x2]]
***
Sometimes when I look back, I miss the girl that I was when I was 22.
I had just started dying my hair red, I was dating my best friend and playing mother to his kids, living in a house with a bunch of good friends and partying a little every weekend. There were some really fun times back then... All of these friends around all of the time and lots of adventures.
But more than all of the hi-jinx I was involved with, I miss the person I used to be.
When I look back on who I was at 22, "she" feels like a different person.
Sure she was young and dumb, and dated boys she shouldn't.
But she was confident. She was brave.
She looked at the world and said "If you don't like who I am, screw you!"
She wore tank-tops even if her arms were flabby.
She took pictures of herself like a vain person.
She went out with her friends and didn't worry what anyone thought.
She loved so hard, and fought for everything she wanted.
She wasn't embarrassed to be in front of a crowd.
She didn't care if people looked at her, she wanted them to.
...
I feel like an entirely different person now.
I'm ashamed of myself. I close myself off.
I don't want people to look at me.
I can't leave the house without wearing a shaper top.
It's uncomfortable, but some kind of security blanket.
I'm not confident at all anymore, and I'm afraid of EVERYTHING.
And I HATE having my picture taken.
I don't even take them of myself as much anymore.
Being in the down-slope of your twenties with 30 looming sucks.
Especially when you still don't have everything figured out.
And now it matters-where it used to be something you forgot about.
Now here I am looking back at 22 and missing it.
Even though I am not sure I'd ever go back.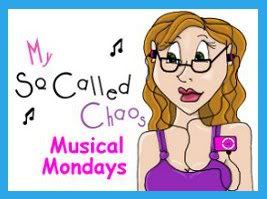 What are you listening to?
Don't forget to link up and be entered to win a music prize at the end of the year!