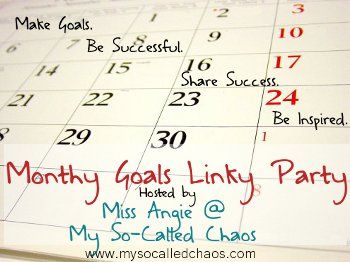 It's time for the Monthly goal linky party!
Recap how you did last month, and list your goals for this month.
Link up and visit other people who link up to show support!
I'd love to see what your goals are.
Tell a friend, I want to see theirs too! :)
Drink more water. -

Utterly failed again.

Start taking my vitamins again. -

FAIL

, what is wrong with me?
Finish de-junking and cleaning my room. -

FAIL

, though I did work on it some more.
Hoop at least 3 times a week. -

FAIL

Save another $500 (at least) -

FAIL

Volunteer for the Super Pet Adoption with CFPU -

SUCCESS

Take Shelter training from Salt Lake County Animal Services (for the Pit Crew!) -Changed my mind, I don't want to do this-I have enough going on with the volunteer stuff I'm doing now.
Help administer the CFPU Facebook fan page (go like it for me, will ya?) -

SUCCESS

Participate in the SITS Spring Fling blog event. -SUCCESS
Host an awesome swap with Beth from Living a Goddess Life (seriously, be excited!) -

SUCCESS

-So far anyway, this is still in process.
Read at least 6 books. -

FAIL!

Only read 1 and a half this month. Boo.
Lose at least 5-10lbs. -

Super FAIL

.
Well that's just sad, and I'm disappointed in myself.
Why is it that I can't seem to get my butt in gear for these things?
I really suck at a few of these goals I've failed every month for the last few months.
Oh well, nothing I can do but pick myself up and give it a try next month.
Carried over Goals-I WILL succeed this time!
Drink More Water.
Start Taking my Vitamins Again.
Finish de-junking and cleaning my room.
Hoop or be active at least 3 times a week.
Save another $500.
Read at least 3 books.
Lose at least 5-10lbs.
New Goals:
Volunteer for Pride Weekend with CFPU.
See Alien's the Puppet Musical.
Announce a creative venture with Art @ Home. (It's going to be fun!)
Have the book swap be fully successful.
Plan my Redwood's Camping Trip.
Start crafting and creating again.
Try the Photo A Day on Instagram.
What are your goals for June?
Grab the button for your post and link up before 6/10/12! :)
Note: Everyone who links up this year, will be entered in a drawing at the start of next year for a HUGE prize pack. The more months you link up with the goal party, the more entries you get! :)