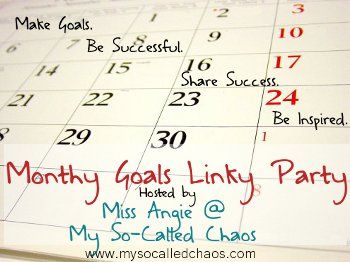 It's time for the Monthly goal linky party!
Recap how you did last month, and list your goals for this month.
Link up and visit other people who link up to show support!
I'd love to see what your goals are.
Tell a friend, I want to see theirs too! :)
Update on April's Goals:
Drink more water.

-

Still not doing terribly well... Carrying over.

Start taking my vitamins again

. -What is wrong with me?

Finish dejunking and cleaning my room

. -Yep, still sucking.
Have a kick-ass birthday party. -

SUCCESS!

Go to the GYN. -

SUCCESS!

Renew my Driver's License.

-

SUCCESS!

Do my Taxes. -

SUCCESS!

Get a Raise. -

SUCCESS!

(About $.38 an hour and they gave me company stock!)
Finish the prizes for my donations. -

SUCCESS!

(They were loved!)
Have fun on the Fun Bus to Wendover. -

SUCCESS!

(It was so much fun!)
Have a game night. -

SUCCESS!

(Sort of a game night, it was fun!)
Get an AUX installed in my car so I can hook up my iPod. -

SUCCESS!

(Thanks Joshy!)

Sell the TV I got from David.

-I'm giving up on this. No one will buy it. I'm stuck with it lol
At least even though there are some failures there, there are a lot of successes too!
I'm carrying the failures over to next month, except the TV.
May's Goals
Drink more water.
Start taking my vitamins again.
Finish de-junking and cleaning my room.
Hoop at least 3 times a week.
Save another $500 (at least)
Volunteer for the Super Pet Adoption with CFPU
Take Shelter training from Salt Lake County Animal Services (for the Pit Crew!)
Help administer the CFPU Facebook fan page (go like it for me, will ya?)
Participate in the SITS Spring Fling blog event.
Host an awesome swap with Beth from Living a Goddess Life (seriously, be excited!)
Read at least 6 books.
Lose at least 5-10lbs.
What are your goals for May?
Grab the button for your post and link up before 4/20/12! :)
Note: Everyone who links up this year, will be entered in a drawing at the start of next year for a HUGE prize pack. The more months you link up with the goal party, the more entries you get! :)