WINNERS!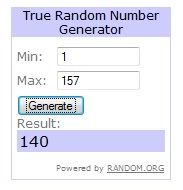 140. Misfit momma aka Missy - GFC Follower
She wants a regular one in Hot Pink and Black.
She wants a pink and white beanie for her daughter.
She wants an extra fuzzy Dark Green/Dark Gray one!
AND-I'm not done yet.
Doesn't every Beauty Pageant have a Miss Congeniality prize?
Ok, so this isn't a pageant, it's just a giveaway...
BUT-I do have a Miss Congeniality Prize.
This is the only prize I didn't use Random.org for.
The only one I chose for myself.
Why? Because she tried the hardest out of anyone to win it.
She Followed me on GFC, Twitter, and FB.
She wrote a blog about it, and added my button.
And the girl Tweeted about it pretty much every day.
Who is she?
She wants a child sized blue beanie for a boy!

Congratulations everyone, winners will be receiving emails soon!
Do you know how much I love doing giveaways?
SOOOOO MUCH!

In fact, ever since the first one I've been itching to do it again.
(I'm addicted to spoiling you, what can I say?
So when the opportunity arose to join the Handmade with Love Winter Giveaway, I instantly jumped on the band-waggon. The idea is that each of the bloggers participating is offering a giveaway on their blog of something either handmade by them, or by someone who is sponsoring their giveaway. Who doesn't love handmade goodies? I'm SO excited!
So here's the fun part-MY GIVEAWAY!
I am giving away 3 more beanies!
(check out the last giveaway to see how it went
HERE
)
They're so pretty right?
The four beanies at the bottom were the winner beanies from the last giveaway.
Eventually I'm going to open a shop and sell these.
But for now, I'm super happy giving them away to my followers!
3 Winners
Will win a handmade beanie made specifically for them with their choice of up to *2 colors, *super-fuzzy or regular, in adult or child sized.
(*colors and texture are based on availability of that kind of yarn)
To Qualify
You
must be a follower
of my blog using Google Friend Connect.
If you're not, click on that pretty little follow button in the right hand column. :)
Also, you must have a US or Canada address.
(Sorry international readers-I'll try and do an international giveaway soon! I'm just not sure how to go about calculating shipping and stuff like that. Much love though!)
To Enter
Leave me a comment telling me that you are a follower and stating what colors (up to 2), type (super-fuzzy or regular), and size (adult or child) you'd want to win.
Bonus Entries
(leave a separate comment for each entry)
*Follow me on Twitter
+1 entry
*Become a fan of my Facebook Page
+1 entry
*Tweet about this entry, or post it on Facebook
+1 entry
(can be done once daily-please leave a link.)
*Copy for twitter*
@MySoCalledChaos
#Win
a
#Handmade
w/ Love Custom Beanie
http://tinyurl.com/HandmadeGiveaway
Hurry, ends 2/6!
*Add my button to your blog
+3 entries
(please leave a link to your blog where it's posted)
*Write a blog about this giveaway
+5 entries
(leave me a link to the post)
Good luck! :) I hope you win!
Also, while you're here, run along to the Handmade With Love Winter Giveaway and enter to win more handmade goodies from all the other participants! Good luck there too,and I hope you win lots of pretty goodies and find lots of pretty new blogs to follow.