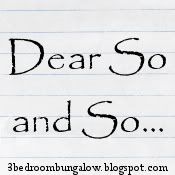 Dear Congestion,
Can we be done now please? I'm sorry, but seeing as you're making me miss three days of work, I'm breaking out the big guns today. Yup, that's right, headed to the store to get the Mucinex D behind the counter. God, I hope this works. I can't handle not being able to breath anymore. It's miserable.
Sincerely,
Someone who's done being sick.
Dear Chas,
You are so sweet, really. Thanks for making my best friend so happy, and for being such a nice guy to me. Stick around a long while, k?
Signed,
The best friend of your boyfriend.
Dear Kristina,
Thanks for making last weekend so much better than the days before had been. We seriously need more Angie/Kristina time, because it brightened my week so much more. Thanks for being one of my very best friends.
Signed,
Me
Dear Heather & Mike,
Thanks goes to you too for helping last weekend rock! Thank you for inviting us up to Park City to chill for a while! :) I love you guys.
Signed,
Me
Dear Valentine's Flowers I Bought Myself,
Thank you for staying pretty for so long! Every time I look at you I smile. That was a good idea.
Signed,
A self-sufficient Woman.
Dear Readers,
Sorry I'm so sick and don't have much to write, I'm weak and haven't left the couch for much the past few days. But I seriously love you all and will be back to posting more very soon I hope!
Signed,
A grateful Blogger.
P.S. Check out
Kat's
for more Dear So & So goodness.
P.P.S. Also, head on over to
Trendy Treehouse
and participate in Follow Me Fridays!