Happy Monday everyone! (That's code for "Ugh, Monday's suck, but I love you all!) I didn't get enough sleep, I woke up late and thus continued along that line until I was late for work. Also, I've been here almost 2 hours now, and I'm still trying to wake up! That's a Monday for you, I'll survive it, because today is going to be a good day! I have fun plans after work I can't wait for!
Day 1: Friday, October 2nd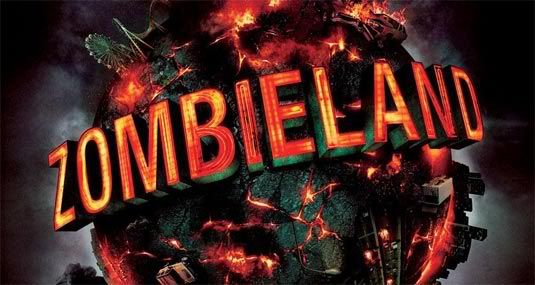 This movie was fantastic! I was wary of everyone who said they thought it would be better than Shawn of the Dead, because let's face it, that's a pretty blasphemous statement. However, I would put it right up there at the same level with it. Best movie of the year, hands down! I laughed so hard!
It was also nice to get to see my friends, and make a new friend, who rocked. Kevin was such a doll, and it was so nice to meet him! I hope he comes around more often!
Day 2: Saturday, October 3rd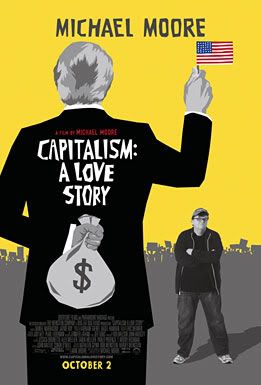 "I refuse to live in a country like this; but I'm not leaving."
Josh, Max and I drove to SLC to watch
Capitalism: A Love Story
at the Broadway theatre. I'd never been to the Broadway before, and I really like it. Also, this movie was good, and infuriating. I couldn't even count how many times during the movie I couldn't stop myself from gasping or saying either "WTF?" or "Oh my god!" I was so angry by the time we walked out of the theatre! I want to go find some protests and start making change!

After the movie we went to the Gateway and spent a few hours wandering around heaven-on-earth, which just so happens to be the bookstore. It seems to be my favorite hobby lately, browsing books I can't afford and making a mental list in my head of what to get when I have money.

I'd been having a rough day, due to disappointment and finding out a friend was upset with me, but that all seemed to go away due to my super-awesome friend Josh, who cheered me up with a Pumpkin Spice Latte. I'm beginning to think that there isn't much in my life that can't be made better with this favorite fall treat of mine! Instant happiness!
Then we made the trip back home, and while we were looking for an iPod charger in Wal Mart, I decided to text the lovely Emily and see if she wanted to come over, and lucky for me she did! My friends all like her, and I had such a good time having her over and welcoming her into the group! Even if a couple of my dear friends seemed a little redneck, they're not always like that, I promise! ;) We played Munchkin and then watched Scary Movie! Fun times!
Day 3: Sunday, October 4th
Sunday was awesome because I was finally able to catch up on some sleep that I'd missed throughout the week! I slept in, and took a nap! Then I spent the evening cuddling with Kristina on the couch while we caught up on Grey's Anatomy, Dollhouse, and watched an episode of Penn & Teller's Bullshit. We watched the PETA episode, and it once again solidified in my head that PETA is an extremist organization, and that I think most of them are INSANE.
I mean they were saying they want the TOTAL LIBERATION of all animals. Meaning: No testing (which I agree with), no Zoo, no Circus, and no pets. WTF? How are all these animals supposed to survive out on the street?
Here's a picture of Brad and Koshka. At this point, we were asking her if she'd rather be treated like a 4 year old or treated like a homeless person. Meaning: does she want to stay here and be fed or live on the street digging for rats in the rain? I think you all know her answer.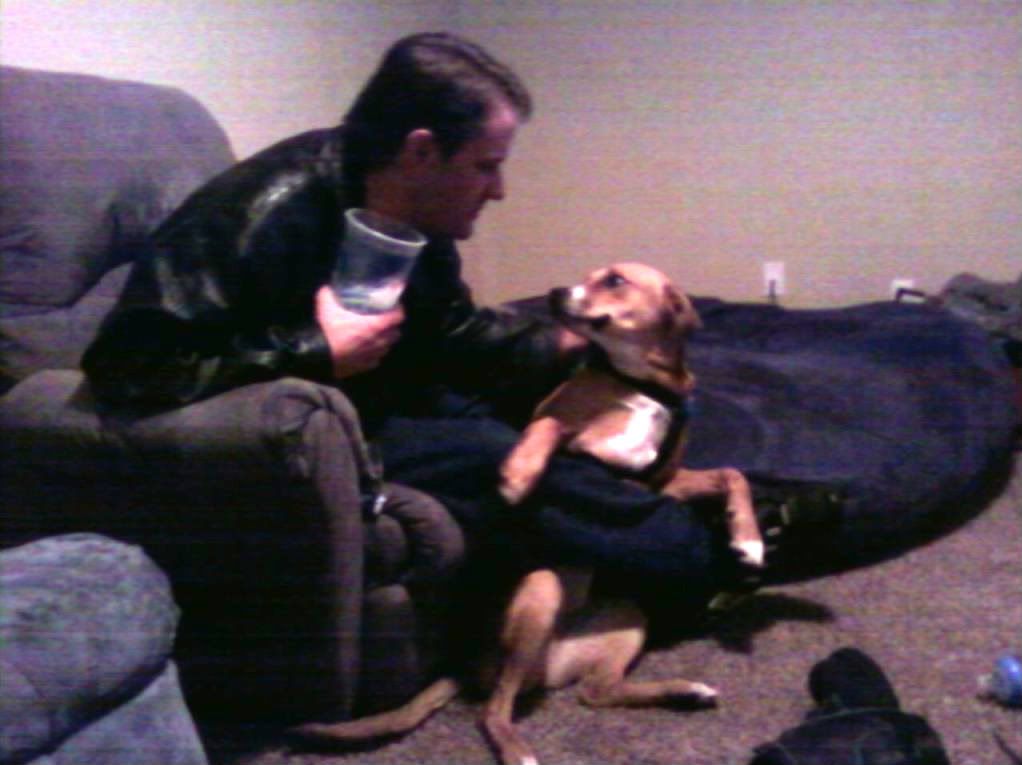 Sorry, the photo is really crappy quality because my phone doesn't do well in low light conditions. However, it's still cute, because he was talking to her and she was just sitting there giving him funny looks and licking his face! She's so cute, even though she's a little trouble-maker.

Check out Lacey at Lacey's awesomeness at Lacey in Love.
Check out the other Lacey's awesomeness at Apartment 513.
Both of these girls rock, and I love reading their blogs!